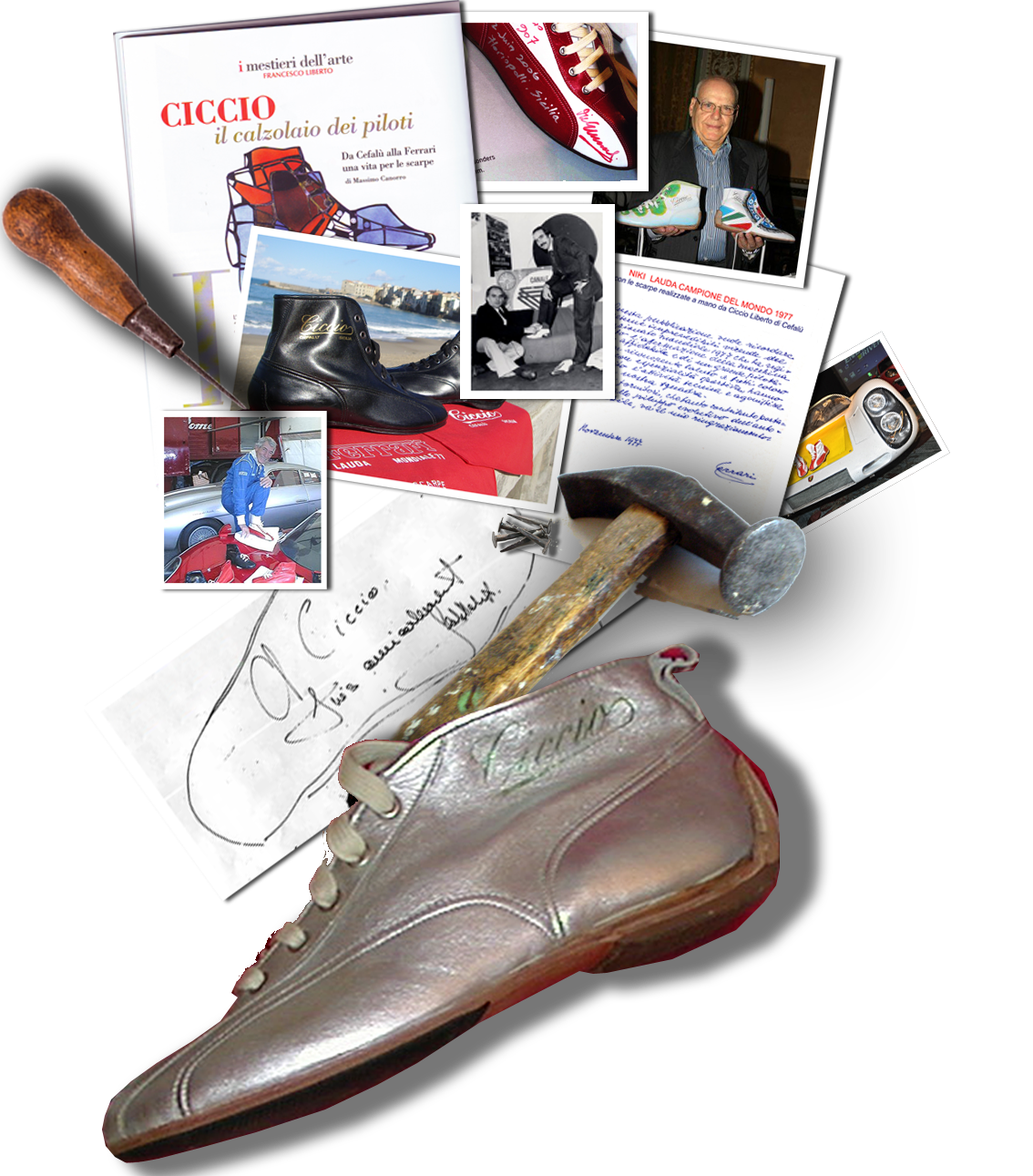 Ciccio di Cefalù, the drivers' shoe maker
Francesco Liberto, also known as "Ciccio di Cefalù, the drivers' shoe maker", was born in 1936. He is a celebrity whose name is familiar to almost everybody in the global racing scene. For many seasons, his famous made to measure competition shoes tasted glory in the feet of the most prestigious drivers in motorsport history.
As making a complete list of Ciccio's clients could be an impossible task, it is fair enough to mention that his boots were chosen either by Niki Lauda, Clay Regazzoni, Jacky Ickx, Mario Andretti, Vic Elford, Toine Hezemans, Ignazio Giunti, Nanni Galli, Geki Russo, Derek Bell, Gerard Larrousse, Henry Pescarolo, Helmuth Marko, Brian Redman, as well as many others who won some of the most important events using these shoes especially made in Sicily.
His first customers were the drivers that reached the Mediterranean island to take part of the legendary Targa Florio. Those were the years in which this antique, unforgettable race was a round of the World Championship for Makes and all entries would always re-start each leg from the town of Cefalù, not before paying a visit to Ciccio's shop, which they considered a must. Little by little, the fashion of the made to measure race shoes he created became popular among professional drivers due to a simple working method he suggested. Drivers had to draw each of their feet and send an envelope by post, choosing the preferred model, leather and colour. And that was it! The state-of-the-art work began afterwards to later become a true masterpiece.
Even if today's market offers a vast range of products dedicated to racing, Ciccio's shop still gets hundreds of orders at present time, the result of his fascinating, timeless creations that come out of his atelier handmade, exactly like half a century ago, all of them able to be customized in an unlimited range of colours and textures. What is more, as a consequence of the long-term cooperation with Franco Cheli and his son Alessandro, acclaimed stage and theater designers at the Accademia di Brera, his shoes painted by hand were taken to the status of authentic art pieces.
It is not a coincidence that Ciccio shoes have been exposed at museums all around the world and seen in several important exhibitions.
Ciccio himself is the owner of one of those happy-ending stories after collecting countless prices and recognitions in recent years. To name but a few, the prize "Eccellenze d'Italia" presented by the Poligrafico e Zecca dello Stato group when the country celebrated its 150th anniversary of its reunification or the Hollywood call to make the shoes for the cast selected by director Ron Howard for the Rush film, in which the duel between Lauda and James Hunt in the 1976 Formula 1 title chase is told. In the movie, like it was in the real grids by then, almost everyone has a pair of Ciccio's boots. The adventures go ahead for him, despite an increasing age and an art craft to teach and leave as a legacy.
Needless to say: Ciccio is a heritageto cheer and treasure.